I routinely get a number of questions about the price fluctuations of the bitcoin. I could not answer the questions because I could not find a suitable date, time and place of birth for the Bitcoin. Now one of the visitor to this website has provided me all the information I needed. I am therefore daring to write this report.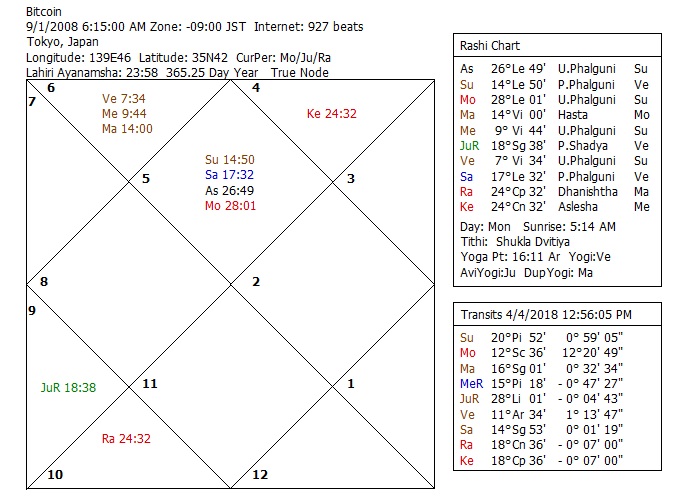 This chart has strong and contradictory features. That explains why there are strong opinions on both sides for Bitcoin. This chart has strong Sun in the first house and strong Jupiter in the fifth house. The first house also has completely combust Saturn and very weak Moon. Since all these planets in the first house are aspected by strong Jupiter, every down move in the price of bitcoin resulted in recovery eventually. The second house has strong Mercury and weak Venus. On top of that these two friendly planets are joined by their enemy Mars. This kind of complexity shows that are both believers and disbelievers in Bitcoin.
Next thing I checked was the price behavior. I studied the transit of the planets over the natal planets, the solar return charts, Vimshottri and other kinds of dashas to see if anything explains the price fluctuations. None of them gave the satisfactory results. Then I turned to the western technique of the progressed Moon over the natal planets. The result was more than satisfactory. The increase in the price of Bitcoin during 11/14/2017 to 12/18/2017 occurred when the progressed Moon transited over the strong natal Jupiter in the fifth house of speculation. The prices started falling as soon as the progressed Moon went more than 2 degrees away from the Jupiter. The minor fluctuations of price between 2010 and 2016 can also be seen with the progression of Moon over third and fourth house of the chart.
If this model is true, there is nothing to be happy about. Although the progressed Moon is still in the fifth house, it is soon going to enter sixth house of enemies and adversaries, and resident Rahu there. I therefore do not see any recovery in the foreseeable future, not at least in 2018. I may be wrong, as astrological models also fail sometimes like other models do. It is possible that there may be occasional upswings. But they should be used to unload the Bitcoin, in my opinion.